"Dr. Spot"
Carpet and Upholstery Stain Remover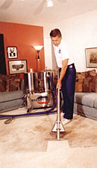 For many years, the "Dr.Spot" formula has been recommended throughout the professional rug cleaning industry as a standard of excellence. Because of "Dr.Spot" and its unusual safety, experienced carpet cleaners use "Dr.Spot" for their entire general spotting needs. "Dr.Spot" is unexcelled as a pre-spotter.
A quick and effective spotter, used prior to cleaning carpet or upholstery, "Dr.Spot" removes most stains. Stains that are left in a carpet or upholstery over a prolonged period of time tend to become set due to oxidizing and are much more difficult to remove. "Dr.Spot" will remove most all of these kinds of stains.
"Dr.Spot" penetrates quickly and effectively, dissolves and lubricates hard-set stamps. "Dr.Spot" is a specially blended spotter and cleaner used to remove grease stains and general spotting. "Dr.Spot" deodorizes, eliminates smoke damage odor.
Tannin stains, defined as stains derived from tea, certain fruit juices and so forth, will not be removed by "Dr.Spot" or any other spotter, from wool carpeting, unless the spot is removed immediately before drying. Tannin becomes chemically a part of animal fibers, and wool, of course, is an animal fiber. Tannin is difficult to remove from synthetic fibers.
Directions
May be applied by spraying directly on stain and rubbing with a soft bristle brush or Turkish towel, or may be poured on Turkish towel and rubbed into stain. For stubborn stains, use soft bristle brush.
View this product in our online store