"Hi-Gloss"
Less Slip…More Wear!

| | |
| --- | --- |
| | One of the first polymer finishes – still the best – every way! It outwears wax and resin finishes, needs very little maintenance! A revolutionary synthetic polymer with amazing hardness! New wetting agent assures perfect leveling with easy application! Even a careless application produces excellent results! |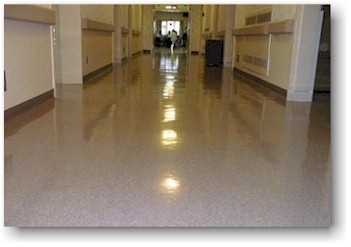 The search for safety lead to the discovery of this finish so entirely different from waxes and resin emulsion coatings! All-new raw materials and manufacturing techniques led to the finish with less slip and more wear over five years ago. It's been a consistent favorite ever since! There are many reasons: Stripping is practically eliminated and reapplication of new coats over the old is an easy job! It resists the heel marking and scuffing! Won't spot or whiten when wet-mopped! Stays clear and won't discolor even the lightest floors! Retains its gloss without constant buffing! Although it needs no buffing, it buffs to a high polish. It's hard, but it's also flexible and stands up under the abuse of constant traffic. Try it soon – you'll use it from that moment on and save time and money every day. So good, it is used in countries around the world.
Description:
A synthetic polymer floor finish containing a special wetting and leveling agent for easy application on all floors.
Advantages:
Exceptionally anti-slip
Exceptional resistance to scuffing, marking
Longer-lasting gloss without buffing
No discoloration of even lightest floors
Cleaners don't cloud, haze or dull the gloss
Labor savings alone from 40% to 60%
Easy to patch in work areas without build-up
Recommended:
For ALL floors: vinyl, asphalt, vinyl asbestos, rubber, cork, linoleum, wood, and terrazzo, concrete.
Application:
Clean floors thoroughly to remove old wax, grease and soil. Apply this finish with a lamb's wool applicator or short-strand mop in thin, even coats. Allow floor to dry completely between coats. Worn floors or floors that have not been sealed may need a third coat. Do not attempt to rub into floor.
Coverage:
1500-2000 square feet per gallon
Drying Time:
20 to 30 minutes. Allow 2 hours drying time between coats.