"KARPET KLEEN 100"
Liquid Carpet Steam Cleaner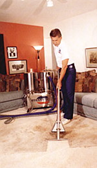 Properties: A liquid, heavy duty cleaner and degreaser for use in steam extraction carpet machines specifically formulated for use in "Karpet Kleen No. 100" carpet steam cleaning machines. It cleans deeply and completely with extremely short contact time. Also contains an optical brightener to enhance sharpness of colors, it quickly removes tenacious soils, heavy grease, imbedded dirty, shampoo, residues, and many stubborn stains. "Karpet Kleen No. 100" dilutes in water… no time-consuming mixing step required, it works equally well in both hard and soft water. Also cleans carpets rapidly and thoroughly, with completely non-foaming in solution. It leaves no residue in carpet to attract soil. "Karpet Kleen No. 100" is completely odorless, its also recommended for all carpet fibers, including polyesters, acrylics, modacrylics, nylons, wools, and olefins. "Karpet Kleen No. 100" is excellent on all carpet types, including cut pile, looped pile, and shag. Non-corrosive to all metals and plastics commonly used in carpet machines. Completely biodegradable "Karpet Kleen No. 100" is safe for use on all colorfast carpet dyes. Formulated to give the minimum cleaning cost per square foot of carpet. It leaves no undissolved residue to clog valves or jets.
Composition and Characteristics: "Karpet Kleen No. 100" Carpet Steam Cleaner performs on even the most heavily soiled carpets. It quickly cuts through grease, grime, and removes imbedded shampoo residues. Carpets that have been cleaned with ordinary shampoos will be stripped of their dull, dingy look and will again have the sharp, bright like new look. Carpets will stay cleaner looking longer since there is no product shampoo residue left in the pile to attract soil. "Karpet Kleen No. 100" usage may be adjusted to meet a particular soil load. For average soil load, use approx. 3oz per gallon of water.
Recommended for Carpets in:
| | |
| --- | --- |
| Schools | Office buildings |
| Hotels | Motels |
| Theaters | Restaurants |
| Kitchens | Institutions |
| Apartment buildings | Condominiums |
| Convention halls | Cafeterias |
View this product in our online store