"Magic Seal"
Floor Sealer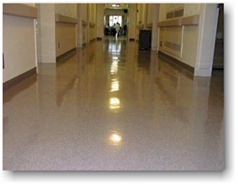 One quick coat cuts time and work because it's so simple to use . . . . dries in only 20 minutes.
Makes any wax or finish used over it look great and last longer.
Saves work since fewer finish coats are required
Restores color to old, tired looking floors.
Keeping composition tile or terrazzo floors in top condition needn't be a costly problem. When floors become faded, bleached out or dry, "Magic-Seal" restores them to a bright and lustrous "new" look, often with just one coat. That same single coat will prevent discoloration and will give floors truly long-lasting protection. Serves as an excellent foundation for synthetic or polymer finish or wax. Adds to the natural beauty of the floor and extends the life of any finish applied over it. In addition it's odorless! A must for situations where objectionable odors are prohibited.
Description: A combination of crystal clear synthetic resins, emulsified in water. Contains no wax, lacquer or materials which could be classed as harmful to composition floors.
Advantages: Excellent foundation for waxes, synthetic or polymer finishes. Fast drying allows immediate re-coat. Reduces scuff marks, leaves a hard finished surface
Recommended: Vinyl, asphalt, rubber, linoleum, and other composition floors, terrazzo, concrete, ceramic tile, etc.
Application: Use only clean applicators, mops, pails or pans for application. For best results use a lambs-wool applicator or "Great-White" finish mop. Apply a thin and even coat. Extremely porous floors may require a second application of sealer.
Coverage: 1,200 to 1,800 square feet per gallon for the first coat. 1,800 to 2,000 square feet per gallon for the second coat if required.
Drying Time: Under normal drying conditions, may be recoated in as little as 20 minutes.
View this product in our online store