"Power Khlor"
Heavy Duty Cleaner For Food Plants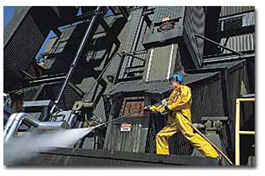 High Foaming Action
Strong Cleaning Power
Controls Odors
Removes Stains
Concentrated, Economical To Use
Davies "Power Khlor" products are exceptionally heavy duty, chlorinated, alkaline, hi-foaming cleaners, specifically designed for food processors. Chlorine is used to control odors, remove stains, reduce bacteria count, and remove organic soil. Special detergents are used to produce a clinging, dense foam that allows the cleaners to penetrate, soften, and remove soil. A synergistic blend of water conditioners, builders, and cleaners boost soil removal.
"Power Khlor 100" is our premium cleaner. This product features outstanding foaming and powerful soil removal. "Power Khlor 100" is ideal for removing protein and other food soil deposits, as well as removing stains. For general cleaning, use 1-3 oz. per gallon of water, depending on soil and cleaning conditions. "Power Khlor 300" is an alternative to "Power Khlor 100" and used at the same recommended dilution.