"Vo Go"
Deodorizing Absorbent
Cover up and pick up of vomit and other unpleasant spillage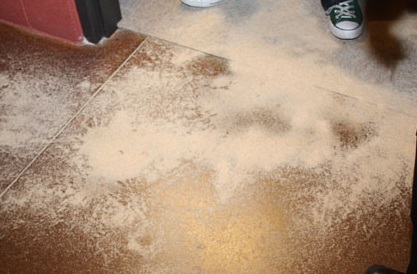 Makes short work of any mess!
Instant action pleasantly scented deodorizing absorbent.
It instantly absorbs and deodorizes… unpleasant odors vanish instantly… the fast, easy, sanitary way to cover-up and pick-up vomitus, child mishaps, pet mistakes, laboratory unpleasantness, and other troublesome spillage
A basic sanitation "must" in every school, school bus. Or any other transportation conveyance, or… wherever people gather, work, play or live!
Easy To Use
SMOTHER the problem – in seconds! Just cover problem area… allow short time for absorption.. then scrape or sweep into dustpan or scrap cardboard for easy, mess-free removal.
Safe
…on every type of floor surface. However, when used on carpeting or upholstery, remove promptly when absorption is completed. Presto! – Area's dry and pleasant smelling – no trace of accident!!
Instant action, pleasantly scented deodorizing absorbent
Packaged in convenient, 3/4lb shaker cans
View this product in our online store