"Wax N Kleen"
Spray Buff Floor Maintenance System
· Unexcelled for removing black heel marks
· Reduces floor maintenance cost 30% to 50%
· May be applied with any floor machine
One man will replace a H-Man crew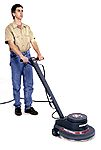 Scrubbing & Cleaning Power
Davies "Wax-N-Kleen" floor maintenance system eliminates mixing solutions – flooding the floor with scrubbing solutions – wet vacuuming – double rinsing – detail clean up – final step of applying floor finish.
One man applies the Davies "Wax-N-Kleen" while operating the floor machine. He pushes a lever on the handle to release the Davies "Wax-N-Kleen" and the machine equipped with Davies SPEICAL FLOOR PAD does the work removing all so il including black heel marks and applies a high shine floor finish in one operation. Pre-wet mopping or pre-dust mopping is NOT NECESSARY with Davies "Wax-N-Kleen" maintenance system. A 4-man job becomes a 1-man job allowing more efficient use of manpower.
A Durable High Shine
You can not measure a floor maintenance system in man power alone – floor finish durability, mark resistance – brilliance of gloss – extent of anti-slip are important factors that determine quality floor maintenance. Davies "Wax-N-Kleen" excels in durability, black mark resistance and anti-slip qualities. Davies "Wax-N-Kleen" is proving to be the most effective labor saving floor maintenance system available. It is consistent – by far faster – a real "FLOOR SHOW".
Davies Wax N Kleen Eliminates
Closing off floor areas prolonged periods of time waiting for floor cleaners to dry
Slippery floors conducive to bad accidents and lawsuits due to injuries
Doing floors on off hours. All floors can be done during high traffic working hours without disrupting traffic and without having any slippery spots (a phenomenal labor savings).
View this product in our online store