"Wax-o-Kote"
CONCRETE MOLD RELEASE COMPOUND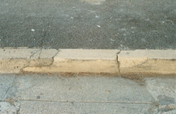 WAX O KOTE IS DERIVED FROM A WAXY PRODUCT AND THEREFORE BEHAVES SOMEWHAT DIFFERENTLY AT DIFFERENT TEMPERATURES. IT IS NOT A PETROLEUM BASE PRODUCT. IT PROVIDES A MOST EFFICIENT RELEASE WITHOUT BUILD-UP ON THE FORMS THAT LEAVES A WAXY FINISH.
"WAX O KOTE"is very effective as a speedy mold release, or parting compound for cast concrete products. The use of "WAX O KOTE" results in terrazzo smooth finishes on concrete cast from slurries. In addition to its performance as a parting compound, the product is effective as rust preventive, protecting the metal forms from rusting during use and storage. The absence of rust on the forms eliminates standing of the formed piece and serious loss of the forms themselves."HANG UP" or excessive deposits on the form edges are virtually unknown.
METHODS OF APPLICATION:
"WAX O KOTE"can be applied to the metal forms by spraying, dipping, or brushing. Most users apply the compound by dipping. Dipping. Dipping time will vary according to temp and humidity, approximately 30 min drying time is required after application and before form is ready use.
EQUIPMENT COATING:
WAX O KOTE is also amazing for ready mix trucks wheel barrels etc... A little coat will protect and help remove time removing concrete. For best results wash truck etc.. With water and apply "WAX O KOTE" and the end of the day simply rinse off.